As a father of 4 children, I have learned countless valuable spiritual lessons from being a father and having children. When my youngest daughter bit her brother, I was amazed at how he reacted. It made me wonder about the picture so many Christians have about God and how they understand his mercy, love, and justice. And it led me to many questions: is my son more merciful than God? Can God simply forgive? What is God's justice like?
Can God forgive without the shedding of blood?
Yesterday, my daughter (almost 3 years old) bit my son (5 years old). She left quite a mark on his tummy. My son cried a lot while I cuddled him. After a while, he turned to his sister and said, "I forgive you because I love you." Then he hugged her and gave her a kiss. Without question, I was pretty proud of my son. He decided to "go the Jesus-Way" (as we say in our family). He forgave his sister without any compensation and without any prompting from my side. He simply forgave. He practiced mercy and Christlike love.
Later when I pondered the situation, I couldn't resist comparing this situation to the picture of God that many Christians have today. Growing up, I learned that God cannot simply forgive because he is a just God. I was told that God requires sacrifices in order to be able to forgive because without the shedding of blood there is no forgiveness (Hebr 9:22). Therefore, Jesus needed to endure God's punishment so that we can be free from God's wrath. God needed to unload his wrath, he couldn't simply forgive as my son did. Such a God is similar to all other gods in the past. They all require sacrifices to be appeased. They all easily get angry and need to be pacified so that they won't unleash their wrath. But is such a view of God true? Does this reflect an accurate picture of God? I doubt it! I'm certain that God is way more loving and merciful than my son!
Throughout the Bible, and especially in Jesus, we can see that God can forgive without the shedding of blood and without administering punishment.
Psalm 103:8-10 103:8 The Lord is compassionate and merciful; he is patient and demonstrates great loyal love. 103:9 He does not always accuse, and does not stay angry.103:10 He does not deal with us as our sins deserve; he does not repay us as our misdeeds deserve. (NET)
Jesus, again and again, forgave sinners without punishing them: the paralyzed man (Mark 2:5), the woman caught in adultery (John 8:1-11), Zacchaeus (Luke 19:1-10), and the sinful woman (Luke 7:47). Jesus forgave them without needing a sacrifice first or punishing them so that some requirements of justice could be fulfilled.
But what about Hebrews 9:22?
"Indeed according to the law almost everything was purified with blood, and without the shedding of blood there is no forgiveness" (Hebr 9:22, NET).
The question is: is V.22b, "without the shedding of blood there is no forgiveness", a universally true statement or not?
Many Christians see it as a universally true statement that forgiveness without blood is impossible. But if we read the verse in context then we can find good reasons that point toward that this is not a universally true statement!
Hebrews 10:4 clearly states that the blood of animals cannot take away sins! All of chapter 10 is about that God does not want bloody sacrifices, but that he desires our obedience. In chapter 10, it says three times that Jesus made clear that God does not desire sacrifices! The whole point of Hebrews is that God does not desire blood sacrifices but our obedience instead. Jesus abolished the sacrifice system because it was only an accommodation that God allowed for a limited time.
Hebrews 9:22 confirms this reading. V.22a sets the context: according to the law. This verse is about the Mosaic law, the old covenant. The old covenant was based on the idea that blood is needed for forgiveness. But even in the old covenant, exceptions existed, which is why it's saying "almost everything was purified by blood". "For example, an impoverished Israelite might bring a tenth of an ephah (four pints) of fine flour to the priest as his sin offering instead of a lamb or even instead of two turtledoves or young pigeons (Lev. 5:11). In Num. 16:46 atonement was made for the congregation of Israel, after the destruction of Korah and his company, by means of incense" (Bruce 1990:226-227). These exceptions show already that V.22b can't be a universally true statement.
Ellingworth affirms that it is not a universally true statement by saying that V.22b "is not at all his own unqualified judgment, but is a simple observation of what happened inside the old, legal dispensation: 'Under the Law.…' " (1993:472).
Summary:
In the old covenant, it was believed that blood is needed to accomplish forgiveness. But Hebrews makes clear that this is not true and that Jesus came to abolish the old covenant and initiate a new covenant. Therefore, we have no reason to believe that this verse requires us to believe that God needs blood to be able to forgive.
God's justice is restorative and not retributive
Where does this idea come from that God needs to be appeased? It's usually born out of a wrong understanding of the nature of his justice. Our understanding of God's justice will greatly influence our understanding of God's character, and thereby our relationship with God. We cannot underestimate the importance of a correct understanding of God's justice. His justice is restorative in nature and not retributive (PLEASE read THIS article where I argue this truth in-depth)!
The modern concept of justice, adopted by many Christians, is characterized by Justitia (Lady Justice), the lady with the scales. Justitia was the Roman goddess of justice. Justitia is about objectivity and impartial judging. Her justice is retributive (an eye for an eye), punitive (contrary to mercy), and cold. Justitia is strongly influenced by Aristotle who separated justice from kindness and demanded that judges must not have feelings. Projecting such a human view of justice onto God creates a God who is made in our image. This view of justice is indeed opposite to love and mercy. This low understanding of justice, however, is far removed from the justice of God.
God's justice is restorative justice, a saving action by God that recreates shalom and makes things right. Real justice is about repairing broken lives. Restorative Justice is not one theme found in Scripture, it is the core narrative of the Gospel.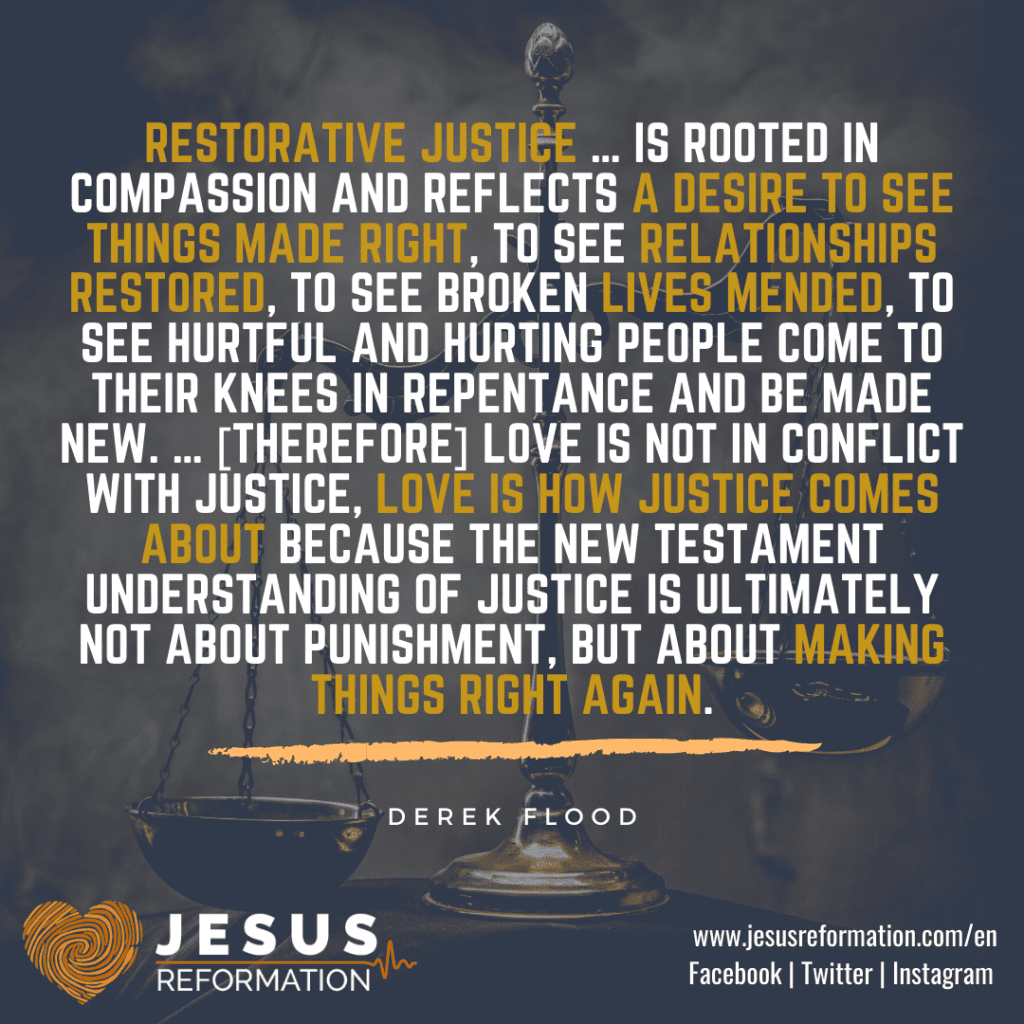 God's justice is restorative in nature. He is constantly working toward restoring his whole creation to what it was intended to be. And he ultimately will accomplish his plan in partnership with us.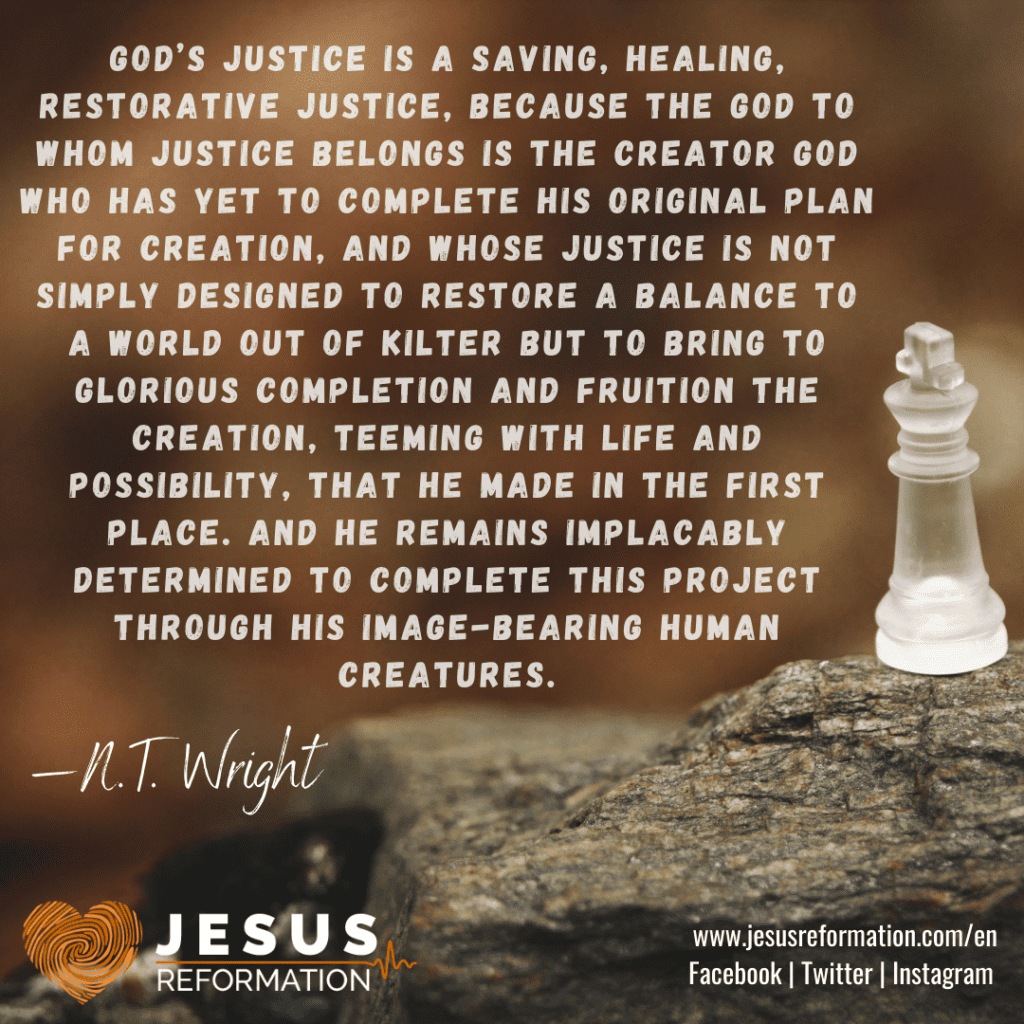 Conclusion:
When my son forgave his sister, he perfectly demonstrated God's mercy and God's restorative justice. He restored the relationship by mercifully forgiving his sister, just as Jesus forgave his murderers on the cross (Lk 23:34). God can, and he wants to forgive. He doesn't need a human sacrifice to be appeased. But when people insist on sinning and thereby hurting others, then he will judge them. His judgment will be painful. His judgment will be like a purifying fire. But in the end, it will be restorative and not retributive because God's justice is restorative in nature. He is way more merciful than any human can be, and everything he does is driven and inspired by his nature of love (1 John 4:8). God will make all things right through his restorative judgement, which is driven by his love. This is the good news of the Bible.
Bibliography:
Bruce, F. F. (1990). The Epistle to the Hebrews (Rev. ed., pp. 226–227). Grand Rapids, MI: Wm. B. Eerdmans Publishing Co.
Ellingworth, P. (1993). The Epistle to the Hebrews: a commentary on the Greek text (p. 472). Grand Rapids, MI; Carlisle: W.B. Eerdmans; Paternoster Press.
Flood, D. (2012). Healing the gospel: a radical vision for grace, justice, and the cross. Eugene, Oregon: Cascade Books.
Wright, N . T. (2012). Evil and the Justice of God. SPCK
Related Articles: